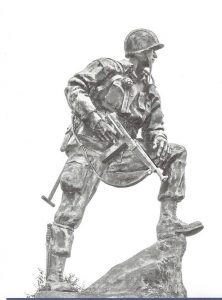 On this 75th anniversary of the start of the Second World War, the Weston Historical Society is proud to present Memories of World War II – an exhibition celebrating our town's contributions to the war. Here we bring together a wide range of artifacts, photographs, armaments, vehicles and memories of that War, many of them from fellow Weston residents and their families.
The exhibit is open Sundays from 1:00 p.m. to 4:00 p.m. at the Society's museum, 104 Weston Road, Weston through March 26, 2017. (Closed Dec. 25 and Jan 1.)
In 1940, the Town of Weston was a small rural community of about 1,053 people. When war was declared Weston's citizens responded. During the war 155 men and women left our town to join the services, becoming fighter pilots, rifle marksmen, bomber and transfer pilots, administrators, and radio operators in every branch of the military.
Many others went to work locally supporting the war, while almost all families bought bonds, raised food, collected scrap, mended clothes, and wrote letters to loved ones and friends to add to the war effort.
Most of these members of the "greatest generation" have long since left our community, but we will be forever grateful for their service to Weston and our country.
Included in the exhibit are the powerful prints by Weston artist Doug Leigh, depicting his experiences in the Battle of the Bulge as young staff sergeant, plus photos of war materiel representing land, air, and sea forces, and actual uniforms worn by our GI's.
The exhibition displays a wide range of personal memorabilia that ties Weston residents, past and present, directly to the conflict. Among them are:
Family photos of relatives and friends directly and indirectly linked to current residents
Ribbons and medals, including two purple hearts
Condolence letters to the parents of a soldier killed in France from Secretary of War Henry Stimson, John D. Rockefeller and President Franklin Roosevelt
Rifles and weaponry from both European and Pacific Theaters
The Weston Historical Society is grateful for local businessman and World War II enthusiast Andy Knapp for loaning several large military artifacts:
50 Caliber Machine Gun
S. Army Jeep
S. Military Motor-cycle with sidecar
Memories of World War II will be open to the public on Sundays from 1:00p.m. to 4:00p.m. from Sunday November 12th, until Sunday March 26th, 2017.
A series of movies and lectures will accompany Memories of World War II. Click here for the full schedule.
Members of the Board of Trustees have been actively planning this special program since last Fall, led by Reg Bowden, Chairman of the Memories of World War II exhibit and past president of WHS, and his committee members: Richard Troxell, Dallas Kersey, current WHS president, Susan Gunn Bromley, WHS executive director, Ken Edgar, Richard Wolf and Fran Sheff-Mauer.
The Weston Historical Society would like to thank our sponsors: Fairfield County Bank, GaraveL Auto Group, Cohen and Wolf P.C., KMS Partners, Weston Education Foundation, and Friends of the Weston Library. Without their help, the exhibit would not be possible.
For further information, or to arrange a special family or guided group tour, please call our executive director, Susan Gunn Bromley, at 203-226-1804 or email Susan@westonhistoricalsociety.org.