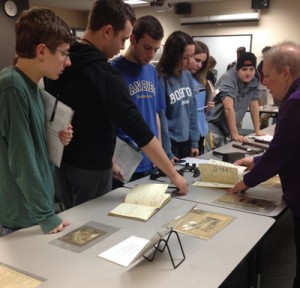 Industrial Revolution
In November 2013, Erin Lebris, a high school social studies teacher, met with the Society's archivist Sharon Gilbert and and collection manager Karin Giannitti to develop a Weston history exhibit that represented Weston's place in the Industrial Revolution.
The resulting "traveling" exhibit created by this team stretched from the pre-Civil War period of the mid 1850's, when industry first became notable in Weston first began — and the population accordingly – to its decline as the larger industrial towns along the Coast and the navigable Naugatuck River started to boom.
The exhibit was held on January 31 and involved four different classes throughout the school day. The February 2014 High School Newsletter summarized the very successful event this way:
"On Friday, January 31 Weston Historical Society members, Sharon Gilbert and Karen Giannitti, met with students in the American Studies classes. Students listened to a brief overview of the history of Weston and were able to pose questions to the local historians. Students viewed the artifacts and photographs while discussing the insights that these selected items gave them about the town of Weston during the historical time period from the 1860s-early 1900s. This lesson focused on the historical changes taking place in Weston during this time period and how our town's history compared to the changes occurring in the United States."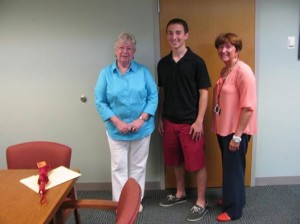 2014 Weston Historical Society History Award
For scholarship in the field of History, Connor Gorkin, a Senior at Weston High School, received the prestigious Award commemorating Charles R. Morehouse, who was born in Weston in 1861. During his life, he taught at the Jarvis Military Academy, built a successful timber business and owned over 2,000 acres in and around Weston. This Award is also dedicated to the great. great grand nephew of C. R. Morehouse, Ernest C. Albin, Jr. a beloved, long-time citizen of Weston who was devoted to preserving its history. With Connor is Judy Albin, widow of Ernest, and Lisa Dioreo, Weston High School Principal.
"I am going to the Kelley School of Business at Indiana University next year. My favorite period of History would have to be American Industrialization from 1860-1900. It has always amazed me that a handful of american industrialists–Carnegie, Rockefeller, Morgan, and Vanderbilt to name a few–transformed this country from a mostly agrarian society with minimal industry into the worlds largest industrial power. This transformation enabled America's leap towards becoming a world power."
– Connor Gorkin
 World War I
Plans are under development to adapt relevant aspects of our forthcoming World War I movies and lectures series for use in the school. We will contact the appropriate teacher at the high school who, judging by the fall curriculum of this school year, would be a 10th grade teacher, and work together to determine how the historical society could contribute to add value to the WW l September curriculum.