Standing quietly as it does on West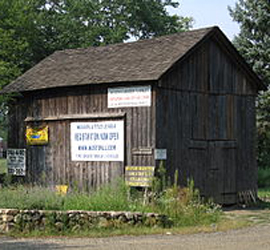 on Road the iconic Onion Barn links Westonites to early times.
Built in 1830 the barn housed what else — onions.
Onions grew easily Weston's rocky and sandy soil, so easily in fact they became Weston's cash crop. They were then stored in root sellers and barns until they were ready for market, according to Images of America: Weston by Kathleen Saluk Failla.
Though Weston might no longer rely on onions to boost its economy, it still contends with rocks. Today builders, gardeners and the like appreciate what early settlers went through to clear land.
"The more you dig the more rocks you'll get," said a local gardener, adding that's the reason there's a great number of old stonewalls.
So rather than fight Mother Nature, early Weston settlers grew onions and built stonewalls — lots of them. After all farmers needed to rid the earth of stones to grow onions. But absent excavators and bulldozers, they had to do it by hand or with the help of oxen. They never hauled them far away and so walls began sprouting as fast as the farmers harvested the rocks, also known as New England potatoes.
It may never be known how many stonewalls stand in Weston, or Connecticut for that matter.
The Onion Barn remains an outstanding example of Weston's earlier days. As Thomas J. Farnham points out in his publication "Weston: the forging of a Connecticut Town" it typifies barns of the region, particularly because it still has its framing and some of its original siding.
In time, the Onion Barn became a town bulletin board of sorts, with various organizations posting announcements on its bleached brown slats. There are posters for school fundraisers, and every winter the Boy Scouts advertise their annual wreath sale. The town's Booster Club collects and stores recyclables there during the school year.
Of course Eliphalet Coley couldn't imagine his barn would become what is has. Coley likely built the barn in 1830, according to Failla. After that, the Banks family owned the barn. They raised the Southport Globe variety of onion.
According to sustainableseedco.com, the Southport Onion is a firm medium-sized onion that's great for cooking. Most importantly for Westonites still dealing with sandy and rocky soil, the Southport Globe is "suitable for home gardens and market growers."
Posted by Cathryn J. Prince
July 25, 2011
Weston-Redding-Easton Patch