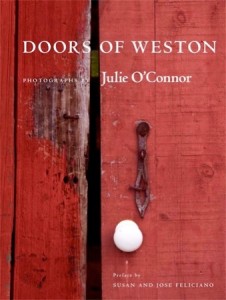 Doors of Weston
Julie O'Connor's DOORS OF WESTON: 300 Years of Passageways in a Connecticut Town is a collectible limited edition fine art photography book published in association with the Weston Historical Society. In 177 intriguing photographs of spectacular color and fascinating detail, Doors of Weston explores the themes of community, nature, art and passages through time and history.
Doors of Weston features a preface by two of Weston's most notable citizens, Susan and Jose Feliciano, who live in one of the town's oldest and most storied homes.
Priced at $100, all profits from this book will be donated to the Weston Historical Society and, in particular, its capital campaign to establish a permanent archive devoted to Weston's history.
Doors of Weston by Julie O'Connor.
$100.00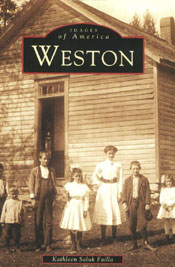 Images of America: Weston
The lives of Weston's settlers from the late seventeenth century on are linked with those of Native Americans who trod the rugged wilderness before them. Today, the memory of the settlers and native people lives on in the special character of this independent town that was once part of Fairfield. Weston has long attracted a diverse group celebrated actors, artists, authors, business executives, and media professionals who have blended easily with farmers and craftsmen. All of them share an appreciation for the natural beauty of Weston's bogs, streams, and hilly woodlands. Through pictures, Weston tells the history of the town and the people who have loved it.
Images of America: Weston, by Kathleen Saluk Failla (Arcadia Publishing)
$20.00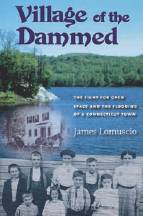 Village of the Dammed by Jim Lomuscio
The story of the historic rise and fall of one New England town, with sweeping implications for environmentalism and the sanctity of open spaces facing the onslaught of modern development.
Since the early 1940's, the remains of Valley Forge, Connecticut have lain one hundred feet beneath the waters of the Saugatuck Reservoir. The town, once a thriving nineteenth century iron and steel manufacturing town, was rendered an unwilling victim to the Bridgeport Hydraulic Company's post-World War I plans for the scenic valley. Historic glass plate negatives depicting the lost town in its heyday, documented in the 1860's by Civil War photographer Charles H.D. Adelbert Whitlock and others, lay unnoticed in an abandoned garage until their chance of discovery in 1969. In the Village of the Dammed, James Lomuscio has reconstructed from these images and other remarkable primary sources the rise and fall of Valley Forge.
Village of the Dammed
$25.00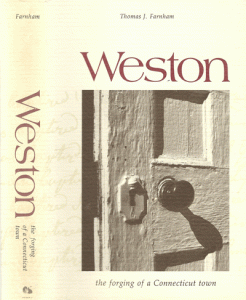 Weston: The Forging of a Town
This book was undertaken by the Weston Historical Society as part of its celebration of the nation's Bicentennial. A must read for those looking for a concise history of the Town of Weston.
Weston: The Forging of a Town by Thomas Farnam
$30.00
Aspetuc Chronicles

Narratives of former days in Easton and Weston Connecticut.
Aspetuc Chronicles by John Dimon Bradley
$20.00
Weston Historical Society Cookbook Volume I

Recipes, spice and herb guide, kitchen hints, clean-up tips, and calorie counter in a perfectly sized 9×6 spiral bound book.
Weston Historical Society Cookbook
$6.50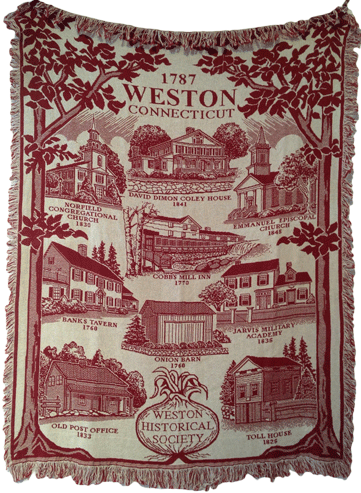 100% Cotton Afghan
Machine Washable
Colors: Red, Black, Green, Navy Blue
$45.00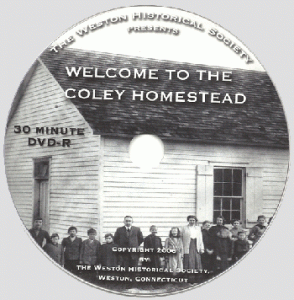 Welcome to the Coley Homestead DVD
$25.00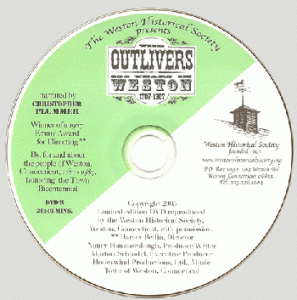 The Outlivers DVD
Narrated by Christopher Plummer
By, for and about the people of Weston, Connecticut, 1787-1987 honoring the Town Bicentennial.
$25.00
There are many other of items of interest for sale, please stop by for a visit soon!