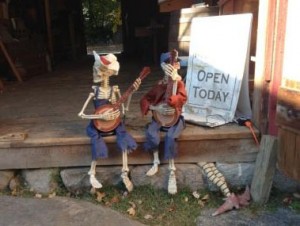 2015 marks the 25th Anniversary of the Weston Scare Fair. The fair is run by the Weston Girl Scouts as a family partnership fundraising event to support the Weston Girl Scouts and the Girl Scouts of Connecticut. All profits from the fair go directly to Girl Scout programming, enhancing the girl scout experience by providing community service and leadership opportunities, outdoor adventures, life survival skills, and so much more. Our goal is to empower girls to reach their fullest potential and build a better world.
The morning of the fair the Weston Girl Scouts transform the Historical Society grounds into a Halloween wonderland. The Girl Scouts create a spooky atmosphere in the antique barn and there are a wide variety of games, crafts, activities, kiddie land, moon bounce, cupcake and cookie decorating for all to enjoy.
Live entertainment will be provided by Jay & Ray – a family-friendly musical band. Hot dogs, arepas, empanadas, and more will be available for sale from Valencia Luncheria.
There will be a Silent Auction with many creative baskets designed and donated by the Weston Girl Scout troops, and a wide variety of merchant and individual donations.
This is a family-themed Halloween event for children of all ages. Costumes are encouraged.
Please join us on Saturday, October 24th from 12:00 Noon to 4:00 p.m. at the Weston Historical Society's beautiful grounds. Admission is free, game and craft tickets are 50 cents each, there will be live entertainment and food for purchase. Rain date is Sunday, October 25th.
For more information contact us at: westongirlscouts@gmail.com
Click here to view the Scare Fair Flyer