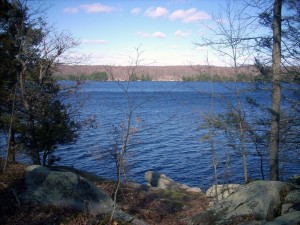 About 1920 the Bridgeport Hydraulic Company began acquiring land on both branches of the Saugatuck River for the purpose of building two reservoirs. In 1927 the Connecticut General Assembly empowered the company to condemn property when necessary or expedient for its corporate purpose.  By 1936 they had already acquired 4,500 acres of 5,000 necessary to build the reservoir. Hard hit by the depression, many families were glad to sell out, but affluent newcomers were not impressed with the offers.
An association vowed to fight the big company, but in the end they were eclipsed by the courts and big business. In 1938 the town agreed that Bridgeport Hydraulic would pay the town $40,000 in damages to the roads the dam would interrupt and agreed to build certain new roads. Bridgeport Hydraulic also guaranteed that they would not pursue damming up the west branch of the Saugatuck . We received limited fishing and hunting privileges.
An entire town was flooded with the building of the dam which covers 635 acres and at an elevation of 283 feet above sea level. It holds over 12 billion gallons of water which is piped to the town of Norwalk.