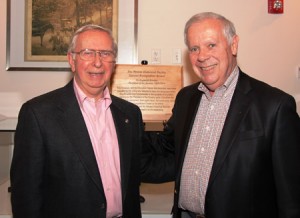 The Weston Historical Society
Coley Homestead
Weston, CT 06883
For Immediate Release:
Contact: Kathy Failla, historical society trustee, at faillakathy@gmail.com
WESTON, CT, MAY 29, 2014–The Weston Historical Society recently honored Reg Bowden, who served nine years as a trustee and an unprecedented five years as president. At a special trustees' reception Bowden was presented with a plaque recognizing his leadership in raising the funds necessary for the Society to build its new education center and archives. Presenting the plaque to Bowden (left) was Dallas Kersey (right), the Society's current president.