Weston Historical Society dedicates Prue Bliss Education Center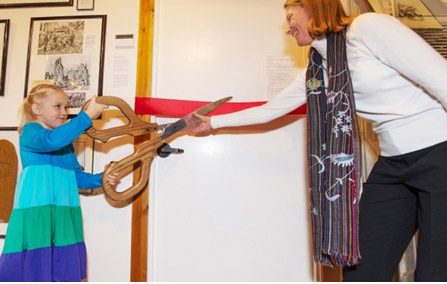 Alison Bliss Archibald cuts the ribbon officially opening the Prue Bliss Education Center at the Weston Historical Society, named in honor of her late grandmother, while her mother, Susan Bliss, helps. —Bryan Haeffele photo
Prue Bliss loved gardening and history and teaching and math. She loved her family and she loved Weston.
Her family and the Weston Historical Society have honored and memorialized the late Ms. Bliss and her passions by creating and dedicating the Prue Bliss Education Center at the society's museum on the Coley Homestead property. The center houses the society's records, photos, deeds, costumes, newspaper clippings, catalogs, and other ephemera in a new climate-controlled vault on the lower level of the museum.
The education center and vault will be used not only to store things but also as a place where students of all ages can do research and learn about Weston's history.
The climate-controlled archive and education center is the final piece in the Weston Historical Society's years-long campaign to build the museum on the Coley Homestead. The project broke ground in 2008, aided in part by donations from "founders" like former First Selectman Woody Bliss — husband of Prue Bliss.
Mr. Bliss's original $25,000 donation in 2006 helped renovate the kitchen in the existing Coley House and kicked off construction of the new building.
This year, $25,000 donations from each of the three Bliss children (the Barbara Bliss Mahnke family, the David Bliss family, and the Susan Bliss Archibald family), as well as a $10,000 matching donation from Mr. Bliss's former employer, IBM, capped off the project, making the education center and archive in the museum reality.
Dedication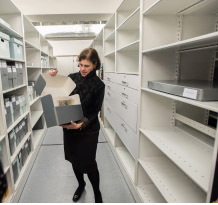 About 75 people gathered at the museum last Friday, Nov. 28, to dedicate the education center.
Speakers included the Rev. Bernard Wilson from Norfield Church, where Ms. Bliss had been very involved in the music program; historical society trustee Nina Daniel, who read a letter from Ruth Ann Wiesenthal-Gold; and Sandy O'Brien, who had been president of the historical society when Ms. Bliss was a trustee.
Susan Gunn Bromley, director of the Weston Historical Society, shares some of the items stored in the new Prue Bliss Education Center and climate-controlled vault. —Bryan Haeffele photo
Members of Ms. Bliss's family on hand included her husband; their youngest daughter, Susan Bliss, and her husband, Stan Archibald, and daughter, Alison; and Mr. Bliss's brother, Peter Bliss.
Susan Bliss spoke at the dedication on behalf of her siblings. "In this season of Thanksgiving, my brother Dave, my sister Barb and I want to give thanks to the Weston community, and we are especially grateful to the Weston Historical Society for dedicating this education center in the name of our mother, Prudence Amanda Anderson Bliss," she said.
"It was Woody who was the force in our family to make this event happen," she continued. "Prue's love of history coupled with her passion for education make this a natural and obvious place to honor her. If any facility were dedicated in her honor, Prue would have certainly felt an education center was appropriate."
Excerpted from the Weston Forum By Patricia Gay on December 4, 2014