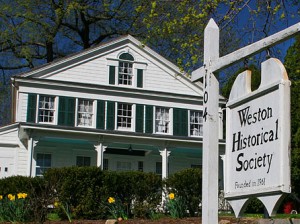 Founded in 1961, the Weston Historical Society is located on the site of a former working farm with roots going back to the 19th century. Affectionately called the "Coley Homestead" our 3.7acre site contains the Coley Barn Museum with a collection of antique farm equipment, a carriage house, the Coley Farm House, the archive museum, and the new Prue Bliss Education Center. These resources provide a living record of how life has been lived in Weston over the years.
The Society has a Board of Trustees and an Executive Committee whose mission is to collect, manage, and preserve the Coley Homestead documents and artifacts and act as a historical and education resource for the community.
The Society is continually developing and offering programs that combine historical, educational and social activities that inform, inspire, challenge and entertain the public. Our schedule of events this year will expand further with the completion of the mezzanine in the Historical Society Museum. Our guided tours and educational outreach programs allow us to share with the public, the changing scene in Weston over the last 300 years.
Central to our vision for the future is the desire to instill in Weston's collective consciousness a sense of community pride in the Coley Homestead as we open the Prue Bliss Education Center with its fireproof, climate controlled archive vault as a new educational resource to contain our irreplaceable documents, artifacts and collections.
Looking ahead, we will continue to raise funds necessary to launch the major restoration effort of the Coley Farm House and we will open the Prue Bliss Education Center to the community in support of school educational programs.
In the final analysis, the realization of our vision will bring more people, young and old, to the Coley Homestead. The Society's archival and preservation activities are important, but even more so when they can be shared and appreciated by the entire community. This is our great hope for the future and one that you can help make a reality. Thank you to all the contributors and volunteers whose assistance is invaluable in achieving the mission of the Weston Historical Society.