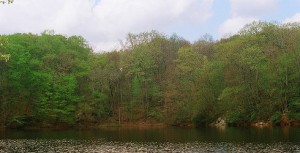 Devil's Den Preserve – Weston
Devil's Den Preserve is the Nature Conservancy's largest continuous preserve in Connecticut and the largest tract of protected land in densely developed Fairfield County. Its 1,756 acres include patchwork of woodlands, wetlands and rock ledges and a series of north-south ridges and valleys woven with streams and swamps to make the Devil's Den an ideal place for low-impact outdoor activities such as hiking and bird watching.
The Den provides a valuable oasis for species that require interior woodland for successful reproduction. Research has shown that such large unfragmented forest areas are vital to the health of a variety of species. Devil's Den also represents a significant portion of the watershed of the west branch of the Saugatuck River, habitat for many of aquatic species, including several uncommon species of mussel.
Devil's Den is also of historical significance; archaeological evidence indicates human use of the area, mostly for hunting, as long as 5,000 years ago. The remains of an up-and-down sawmill below Godfrey Pond testify to the importance of the lumbering that dovetailed with charcoal burning. The production of charcoal was an important commercial activity in the 1800s and marks dozens of sites.
The late Katharine Ordway through a series of donations from 1966 through 1968, beginning with a 1,100-acre purchase from the Bridgeport Hydraulic Company, created the Den.
Devil's Den is the Connecticut Chapter's most frequently visited preserve, hosting more than 40,000 people per year. It is ideally located to provide an enriching and educational outdoor experience.
LeGallienne Bird Sanctuary – Weston
LeGallienne Bird Sanctuary is a trailed nature preserve on a quiet hillside with intriguing reflections of Weston's past. The trail, occasionally steep, is about a mile long as it crisscrosses the hillside through sparse woodlands, over a small meadow, by several unusual rock outcroppings, and, of special note, the large boulder Ms. LeGallienne used to practice for her Broadway role as Peter Pan. Occasional rock piles on the hillside mark the former sites of barns or houses and indicating the probability of subsistence farming.
Historical Note: Ms. LeGallienne wrote that her home was more than 200 years old when she bought it in 1926. Her move to this haven . . . "helped me sustain my physical and spiritual energy…..that there is not a day when one is not overwhelmed by the beauty of the world."
Directions & Parking: 
North on Weston Road (State Route 57) past Center; left at flashing light; up hill a half mile turn right on Hillside North; then left on September Lane. Trail entrance is through the opening in split rail fence on right. Parking is along the road.
LeGallienne Bird Sanctuary is one of 45 trailed nature preserves and other conservation-only properties on over 1,700 acres of land under the stewardship of the Aspectuck Land Trust.
ALT is a non-profit membership organization whose mission is the preservation and conservation of open space, including farm and forest land, and the natural resources located thereon, primarily in the towns of Easton, Weston, Fairfield and Westport, for the benefit and education of the public.
Cobb's Mill Inn – Weston
Steeped in romantic colonial charm, and blessed with a magnificent waterfall, Cobb's Mill Inn is quintessential New England. Built in 1749, and witness to the birth of the United States of America, the Mill's original and authentic architecture has been carefully preserved.
The central or main building was originally a lumber mill, grist mill and cider mill owned and operated by Eleazor Sturges and Ephraim Jackson, who were related to each other as father-in-law and son-in-law. In the 1800's it was known as Davis' Mill and later as Carver's Mill. Rye, wheat, apples and timber, harvested from Weston fields, orchards and forests, were ground, pressed or cut at the Mill. Lumber activity ceased, however, in the early 1900's due to a severe blight, which devastated the American chestnut tree.
In 1912, Frank I. Cobb purchased the Mill, no longer in operation, a close friend of the young Franklin Delano Roosevelt and the editor-in-chief of the old "New York World" newspaper from 1907 until his death in 1923. In 1927, Moira Wallace and Sydney Dyke opened an antique shop and tearoom. In 1936, Alice DeLamar and Jacques deWolfe converted the building to a country inn and fine dining establishment. Among their many improvements were the two fine mahogany and pewter bars rescued from the cruise ship "Normandie", which can be seen today in the Tavern Room. In the 20th Century, Cobb's Mill Inn was host to five U.S. Presidents and numerous celebrities. The Mill was owned and operated from 1952 to 1986 by Julie P. Jones, and from 1986 to 2006 by the Cocchia family of Norwalk.
The Westport Playhouse – Westport
Westport Country Playhouse, is a not-for-profit theater in Westport, Connecticut. It was founded in 1931 by Lawrence Langner, a New York theater producer. Langner remodeled an 1830s tannery with a Broadway-quality stage.
Residents of Weston, Connecticut, the Langners were anxious to have a place away from the spotlight of New York City in which to establish a resident acting company and experiment with new plays and reinterpretations of classics. In the winter of 1930 they purchased a red barn in an old apple orchard on what was then the fringes of Westport, a country town in Connecticut already popular with Broadway's theatrical community.
Cleon Throckmorton, a well-respected Broadway set designer who had also designed the Cape Playhouse in Dennis, Massachusetts, was engaged to transform the former 1835 cow barn and subsequent tannery, called the Kemper Leather Works, into a theater. Langner wanted both to preserve a rural atmosphere and to use red and gold bunting such as he had seen in a toy Victorian theater in his youth.
The Ridgefield Playhouse – Ridgefield
After many years of planning, fundraising, and building, the dream of restoring the Cass Gilbert Jr.-designed theater in Ridgefield became a reality with their December 2000 opening night performance by Weston resident Jose Feliciano.
Since their opening, enthusiastic, sold-out audiences have enjoyed Peter Yarrow, Marcel Marceau, Barbara Cook, Moscow Boys Choir, Joan Baez, and The Bacon Brothers and more recently, Michael Feinstein, Gregg Allman, Clint Black, The Doobie Brothers, Brian Wilson, Diana Krall and more.  Film-goers have been treated to question and answer sessions with many of  the movie industries finest- including Ron Howard, Harvey Keitel, Tim Robbins, Barry Levinson and more, as part of their film society events, which screen both feature and documentary films.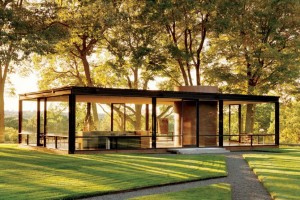 The Glass House – New Canaan
The Glass House, built between 1949 and 1995 by architect Philip Johnson, is a National Trust Historic Site located in New Canaan, CT. The pastoral 49-acre landscape comprises fourteen structures, including the Glass House (1949), and features a permanent collection of 20th-century painting and sculpture, along with temporary exhibitions. The tour season runs from May to November and advance reservations are required.

BACK TO TOP