National History Day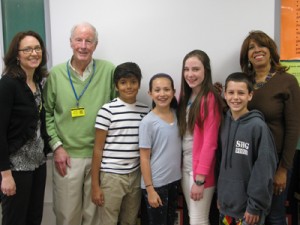 Twelve students from Peggy Jorgensen's Talented and Gifted classes came to the Society on May 4th, 2014 to present the award-winning projects they prepared in connection with National History Day. Their work was based on the assigned theme of "Rights and Responsibilities," for which they did independent research and created their own ways of presenting the results. The students who came to the Coley Homestead showed four short videos, a performance piece, and an essay. Two of these projects went on to win at the State level and will go on to compete in the final National History Day event.
The presentations given at the Coley Homestead:
Noelle Mendelson, Elephant Rights.
The documentary explores the work of those involved in saving and protecting rapidly diminishing elephant herds and includes the perspective of the poachers. (Documentary. Awarded 1st place)
Owen Tanzer, Faith Healing.
Some Pentacostalists have rejected medical care in favor of prayers, oils, and sometimes exorcisms. Might they be considered guilty of negligence and homicide? This performance explores the rights and responsibilities of those involved. (Performance. Awarded 1st place.)
Alex Nordlinger and Roman Scavone, Gun Rights. **
A documentary about the right to bear arms and how it has been contested over the years. Both sides of the argument are explored. (Documentary. Awarded 3rd place.)
Doran Sekaran, Homestead Steel Strike.
The impact of an American industrial lockout and strike in 1892 that culminated in a battle between strikers and private security agents. (Paper. Awarded 3rd place.)
Brendan Moore, Beck Reiferson, and Tobey Bill. Pentagon Papers. **
During the Vietnam War, Daniel Ellsberg, a Pentagon employee, leaked secret documents to the press, resulting in a major test of the freedom of the press. (Documentary. Awarded 1st place.)
Mason Hastings, Andrew Brozek, Evan Mariyappa, and Natalie Schreder, Underground Railroad.
This documentary describes the system of safe havens that arose to help runaway slaves in the 1860's. One of the stations was in Weston. (Documentary. Awarded 2nd place.)
** Indicates Connecticut State winners whose projects will compete in national competition honoring National History Day.