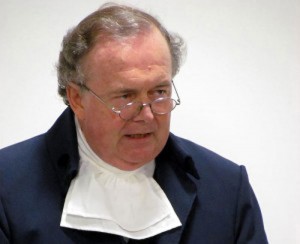 George Baker portrayed the second president of the United States at the Weston Public Library on Sunday, April 28, 2014.
The acclaimed re-enactor George Baker portrayed the father of American independence, John Adams, who talked about his life and his views on American society in a humorous and inspiring performance entitled "Meet John Adams — A Lively and Revolutionary Conversation with America's Second President."
This event, held at the Weston library was jointly sponsored by the Friends of the Weston Public Library and the Weston Historical Society.
While geared for adults, "Meet John Adams" is suitable for families, even those with young children.
The program was both entertaining and educational. President Adams sang three songs, accompanying himself on the piano, and took questions from the audience.