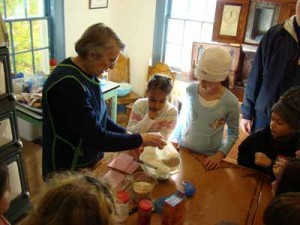 Third Grade Tours
An innovative annual tour has also been developed for third grade students. The tours are conducted at the new archive facility and the children learn about Weston's origins, the people who settled here and stories about why they decided to stay in Weston.
There are many hands on exhibits during the tour, among them arrowheads, old bibles and documents, family items, pictures, quilts, clothing, tools and implements. During the tour the students are given the opportunity to perform some basic history research organized by the Historical Society.
The Weston Historical Society conducts the Third Grade tours every year in March.