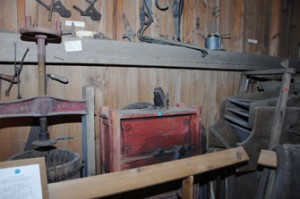 Farm Implements at the Coley Homestead
Most of the farm implements in the Coley barn were given to us by James Coley who chose carpentry over farming in the late 1930's. Many of the old families in town also gave generously of their old farm implements as faming had lost its luster in the early part of the 20th century.
Our collection includes blacksmith tools, butchering items, well equipment, sickle, corn knife, an ice cutter, brush hooks, carriage jacks, hay cutter, drafting tools, saws, axes, hay rakes, butter churners, seeders, fanning mills, corn huskers, tack for horses, and many other items that were used on the farm.
T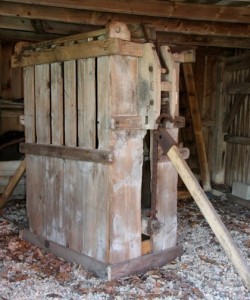 he Lockwood Baling Press
For a Connecticut farmer in the late 19th century, hay or straw was a commodity that provided a good source of income. In the 1800's hay was cut by hand and left to dry in the fields. Once dried, the loose hay was gathered onto a horse drawn cart or wagon and stored as a haystack, either in a barn, hay loft, or in a separate shed or hay barrack. With the invention of the hand powered Hay Press, the hay was neatly compressed and bundled into a bale, which could then be lifted, stacked and transported efficiently. This is the precursor to the mechanical Hay Baler, which was invented in the 20th century.
Mr. Irving J. Lockwood, a Weston resident, invented the Lockwood Baling Press in 1860. In the Ad posted by Irving J. Lockwood, from the late 1800's, Mr. Lockwood notes that prices for Baled Hay and Straw are "favorable" and appear to remain that way for the foreseeable future. Mr. Lockwood introduces his invention as: "…the lightest and easiest, quickest, operating hand power press now on the market." During the period that Mr. Lockwood was working on his invention, the seeds were being sown for other new inventions such as mechanized cutting devices, as well as mechanical movers and hay balers.
Although the Lockwood Baling Press was patented at the U.S. Patent Office in 1906, the Lockwood Baling Press was never produced.
Restoring the Lockwood Baling Press
The restoration and display of the Lockwood Hay Baler was an Eagle Scout Project for Troop 788 Scout, Zev Koffsky