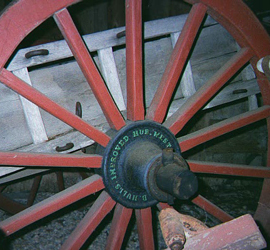 Volunteers are Needed – Join Us!
Volunteers are an integral part of preserving our heritage and the spirit of the community. The contributions made by our volunteers enhance educational, cultural and social events, which help preserve and encourage an insight into our history.
The Weston Historical Society has an ongoing need for docents to lead tours of our barn and the Coley House. Volunteer help in settling our collection into our new archive facility would also be appreciated.
In addition, we have a regular series of programs throughout the year where help would be welcome. Annual programs include the Senior Picnic in July and the Scare Fair in October. Special events in the past year included our "Brides of Weston" exhibition, a Civil War Encampment, and educational programs for students. In the coming months we will have a series of programs and exhibitions that commemorate the start of World War I.
If you have an interest in any of our events and would like to share your time or talent, come join us.
To sign up or learn more about volunteer opportunities at the Weston Historical Society please contact us at:
Weston Historical Society
104 Weston Road
P.O. Box 1092
Weston, CT 06883
(203) 226-1804
info@westonhistoricalsociety.org