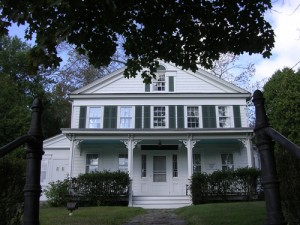 In 1841 David Dimon Coley of Weston built the Coley House. It is a nice example of the Greek Revival style that flourished across America from 1825 through the 1850's. The house is oriented in an easterly direction towards Weston Road. Its front façade has a pedimented gable with small window as well as five-over-four large windows symmetrically flanking the front door that has sidelights: all common elements of the Greek Revival style.
By the 1880's, the Victorian style, emphasizing irregularity and variety, gained popularity and Coley House reflects many of this style's influences with several shed-roof additions and a bay window in the front parlor.
Five consecutive generations of Coley's lived here. David Dimon left his estate to his son James L. Coley, who left it to his son James Coley who left it to his son James Sturges Coley who was a carpenter and remodeled it extensively. His wife Cleora Coley bequeathed the house, outbuildings and 3.7 acres of property to the Society in 1981.