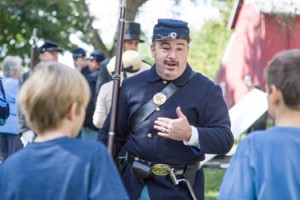 The Town of Weston experienced the daily lives of Civil War soldiers as well as the roles women and civilians played during the Civil war. On September 28, the 14th Connecticut Volunteer Infantry (CVI), Company F, was set up camp in Weston. The original 14th CVI participated in 34 battles and skirmishes during the Civil War.
There was five hours of activities, including military drills and weapons demonstrations, and a demonstration of how soldier's meals were prepared over an open fire. Children's activities included  "volunteering" to march with wooden muskets.
Programs on the role of Civil War nurses, the life of Corporal Joseph Pierce (the highest – ranking Union soldier of Chinese heritage) and the history of the 14th CVI, was also offered.