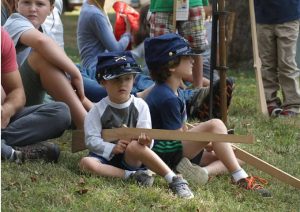 The Weston Historical Society will host Company F of the 14th Connecticut Volunteer Infantry re-enactors for a Civil War Encampment, on Saturday, October 21st, from 10am to 3pm at the Coley Homestead at 104 Weston Road.
Throughout the day there will be many different demonstrations reflecting military life as it was during the Civil War from 1861 to 1865.
The Encampment will be guided by participants in period Civil War dress, and will feature cooking demonstrations, camp building, and displays of tools, doctor's implements, weapons, and uniforms. Re-enactors will interact with the public to convey the experience of Civil War soldiers from what they ate, to combat techniques, to how they entertained themselves between battles.
There will be firing line and drill demonstrations by the soldier re-enactors. Plus, children will be led in Civil War military drills using wooden muskets.
Here is a Tentative Schedule of Events:
10:00a.m. Soldiers will fall-in and drill
10:45a.m. Firing Demonstration
11:45a.m. Visit with the Company Cook
12:30p.m. Knapsack and blanket roll – discussion on a soldier's life during the war
1:15p.m. Drilling Experience – children volunteers will experience drilling with wooden muskets and with signal flags
2:00p.m. Firing demonstration
3:00p.m. Camp breaks down
Admission is $12 for Member Family/$15 for Non-Member Family, $8 for Individual Member/$10 for Individual Non-Member. Snacks and drinks will be available for purchase.
The parking lot at the Weston Historical Society's Coley Homestead is handicap accessible, although the ground on the homestead property is uneven.
Special events at the Weston Historical Society are made possible in part by our sponsors: KMS Partners at Coldwell Banker, Fairfield County Bank, and Cohen & Wolf P.C.