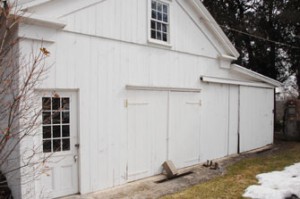 The Carriage House has been on the property since approximately 1840. The building was closer to the road originally, the road passing right in front of the Coley Homestead. Fifteen years ago the building was moved back from the current Weston Road.
The society houses several sleighs, large and small in the Carriage Barn. The largest of the carriages is a horse-drawn Phaeton which we often use during the Memorial Day Parade.
Outside the building is a large stone block which would have been used by the women of the day to climb up into the carriage, as well as an old gasoline pump which was a familiar site on farms during the early 1900's.