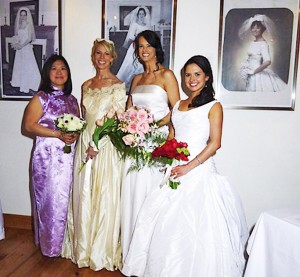 "Historic Wedding Dresses – The Brides of Weston"
On Saturday, March 1st, 2014 the "Brides of Weston" came to town in a spectacular educational and historic event at the Weston Historical Society.
The Historical Society exhibit featured photos of eighteen of Weston's brides of "today and yesterday", a promenade of four brides from the Weston Women's League, a "Find the Bride" contest, and an exhibit of the treasured wedding dress collection of the Historical Society with food and refreshments for all.
The event was organized from start to finish by Karin Giannitti of the Historical Society and Stacey Tucker of the Weston Women's League and sponsored by a host of local businesses, among them Jamieson Architects; Bon Soiree; Georgetown Bake Shoppe, Peter's Spirit Shop: Dirt Floral: and Eileen Fisher.Our thanks go out to all members of the Weston Historical Society who contributed to make this such a memorable event.