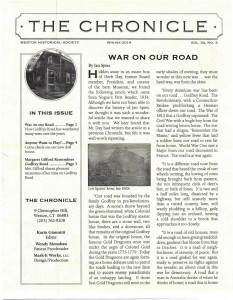 The Chronicle
Our quarterly newsletter kept members and friends informed and entertained for 34 years. Founded in 1982 by Herb Day and edited by him until 1993, he was succeeded by Kathy Failla in 1993 and then Karin Giannitti in 1994, who in turn served until 2014.
The Chronicle provides an incomparable record of Weston history: stories going back to Weston's earliest days, memories of people and key events, entertaining tales and compelling reminiscences, historic photos, diary excerpts, and much more. A complete set of issues can be found in the Society's archives at the Prue Bliss Education Center. They have now also been digitized by the Weston Public Library, for which we are most grateful. They can be accessed here.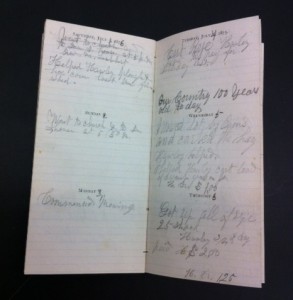 Diaries
One of our most prized possessions are the diaries of Ebenezer Fitch who lived on Goodhill Road in Weston. His diaries span the many of the years between 1856 and 1889. The diaries are a daily description of farming life in Weston during the 1800′s. Although the notations are brief they tell a story of day to day life, including a daily mention of the weather and seasonal chores.
In his 1876 Diary book, on the second entry on the right hand page, Ebenezer Fitch notes on July 4th – Our Country is 100 years old today.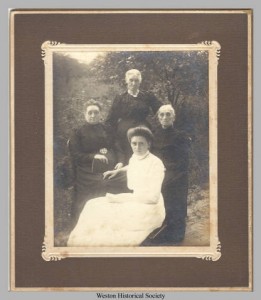 Genealogy
Our genealogy collections include the genealogy of several Weston founding families including the Coleys, the Messex family, the Godfreys, the Lockwoods, and the Fitches. We also have a large collection of the histories of the homes in which these people lived, most often handed down from generation to generation.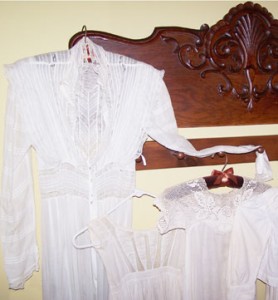 Period Clothing
The Weston Historical Society currently has a large collection of period clothing spanning 200 years. We have many lovely handmade items from as early as 1850 to wedding dresses from the 1960′s. We have military uniforms, skirts, blouses, jackets, dresses, hats, shoes, stockings and jewelry.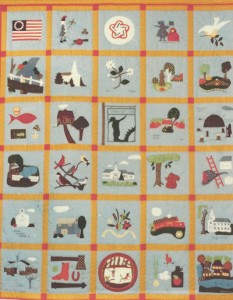 Quilts
The Society has a collection of approximately 40 quilts of various sizes. Some are utilitarian in nature and others more decorative and special. These have all been donated to the Society by members of the community. The society held two major quilt shows, one in 1987 and one in 1992. A large community quilt was made by Society members for Weston's bicentennial in 1987 and currently hangs in the Weston Library Community Room. It contains the names of many Weston residents of that time.